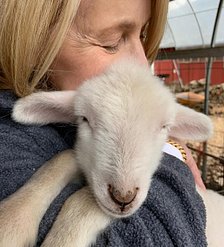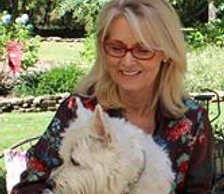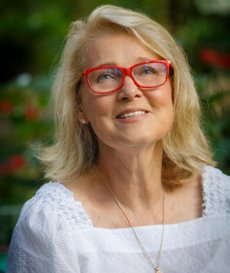 "Don't worry about anything, instead, pray about everything. Tell God what you need, and thank him for all he has done. Then you will experience God's peace, which exceeds anything we can understand."
Biography
Christina was born in Hamburg,Germany and came to the United States with her family at the age of 10. In the United States her journeys have led her from New York to California withh extended stays in New Mexico and Arizona. Her extensive travels have taken her from Europe to Central America ,South America, Asia and Australia.
Christina is an artist in search of reality. Not so much the reality of the hysical as that of the spiritual. The real subject matter of her work lies beyond the surface and identifiable forms. While her work may offer recognizable images, the core of her art rests in the metaphysical and is always anchored by those universal qualities that transcend the obvious.
Education
Christina holds a Master of Fine Arts in Art , University of Arkansas at Little Rock, Arkansas1997,. She holds a Bachelor of Arts in Art and German at Arkansas Tech University, at Russelville, Arkansas, 1996 Christina is inspired by both Georgia O'Keeffe and Henriette Wyeth. Christina's cultural background, educational interests, and artististic interests have shaped her artistic growth.
Honors and Awards
Christina was inducted in Phi Kappa Phi in 1997.
She graduated Summa Cum Laude in 1996.
In 1993 she graduated Phi Theta Kappa.
Media
A multimedia artist, Christina is comfortable in varioius media including oils, colored pencil, gouache, pastels, and more.
Presenter
Christina presented a lecture on From Journey to Celebration of Life in Gallery II, University of Arkansas at Little Rock, Little Rock Arkansas, 1997
Exhibitions
Fusion Art, Still Life Juried Art Competition, 2020 chosen for exhibition.
Painting, "The Cross" inspiration from the Salt Mines in Columbia, S. A. 2009
Taos, New Mexico, Plein Air Painting, 2004
Museum of Discovery, Little Rock, AR, The Lambs 2004
Train Station Gallery Little Rock, AR All about Children, 2003
First Security Bank Community Center, Clinton, AR, Floral Exhibit, 2002
Sketch Box and Boswell Gallery, Exhibition, Abstract Art, 2001-2004
UALR Student Competitive Exhibition, Gallery I, University of Arkansas at Little Rock, Little Rock, Arkansas.1997
Affair of the Arts, Michelle's Galleria, Morrilton, Arkansas, 1997
Looking at Outdoor Leisure, Witherspoon Lobby, Arkkansas Tech University, Russellville, Arkansas1996
TriCounty Art Exhibit, Conway Arkansas, 1996
Eighth Annual Collegiate Competition, Russellville, Arkansas, 1996
Students Summer Art Show, Scottsdale Community College, Scottsdale, Arizona1993
Third Annual Art of the Family Show, Paradise Valley Community College, Phoenix, Arizona, 1992
Second Annual Art of the Family Show, Paradise Valley Community College, Phoenix, Arizona, 1991
Student Art Show, Scottsdale Community College, Scottsdale, Arizona, 1990
Affiliations
Member, Crystal Bridges Museum of American Art, Bentonville, Arkansas, 2020
Member, Fine Art America 2020
Member of Phi Kappa Phi, Little Rock, Arkansas,
1997 Arkansas Arts Council, Little Rock, Arkansas,
Educatior
Educator, Petit Jean State Park, Arkansas, Adults and Children 2005-2010, 2020
Home
Christina is also an accomplished Master Gardner. When not in her studio, you will find her outside caring for the year-round five-acre garden surrounding her home. Pictures of her garden are in the Christina's Garden section of the website. She is a lover of God's creatures, wild, free and domestic. An active member, she attends Fellowship Bible Church, Little Rock.